An erotic massage is based on stimulating erogenous zones around the human body. It doesn't always refer to a sexual massage. Erogenous zones are located all over the body, some areas may be more sensitive depending on the person. Toronto has many erotic massage parlors to choose from, which makes it hard to decide which erotic massage toronto spa is best for you.
Exotic

Massage Toronto...

An exotic massage is a little different, whereas it refers to the massage practice like location or the masseuse herself. Or even a theme could make the whole experience exotic in nature. Sometimes the ambiance like relaxing music, a clean environment, and a jacuzzi with scented oils sets the mood for an exotic massage.

What you need to look for in an erotic or exotic massage spa and in any spa for that matter is customer service. This includes booking, contacting management, and attendants should all be courteous and friendly. Without a welcoming environment, all the amenities don't matter.
How does our spa measure up?
On the 9 Spa has not only a friendly and interactive website, a modern designed spa but very welcoming massage attendants. We strive on providing the best possible customer service. If at any point you aren't unsatisfied with your stay contact us and we will make it right.
Prices can be found here, but these prices don't include tipping for your attendant. To see who's working and when visit our live schedule.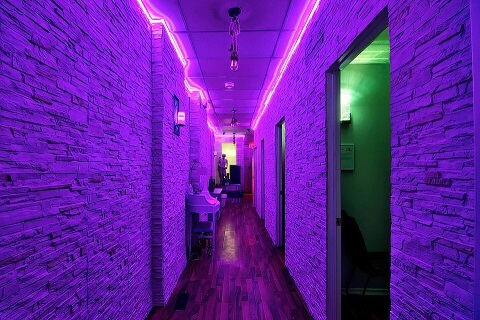 Our spa is equipped to help you relax even further with our Jacuzzi room. With custom LED lighting to set the relaxing mood and a smart TV to make sure you enjoy your stay. Enjoy your massage with the music or videos you want, because we know it's all about you.
Stay updated with us on social media or keep checking our specials page for reduced rates and discounts. For more photos and a tour video please visit our tour page.